DGP-16HV
The DGP-16HV is a high sensitivity GPS sensor module for mobile DF stations employing the HuntMASTER digital mapping and location software. This unit reports the Lat/Lon coordinates necessary for HuntMASTER to establish the mobile DF station on its digital moving map display.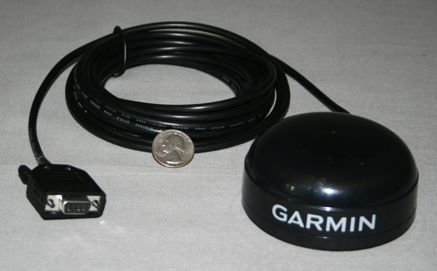 RDF Products DGP-16HV GPS Sensor
Ultra High Sensitivity (-185 dBW)

Compact, Rugged, Light-Weight Unit

Hermetically Sealed for Outdoor Deployment

Magnetic Base for Vehicle Roof-Top Mount
Fully Compatible with DFP-1000B/DFP-1010D

1 Second Lat/Lon Updates for Real-Time Operation

Wired & Tested for Plug and Play Operation

Required for HuntMASTER Mobile Mapping Software
DTC-610 Transit Case
The DTC-610 is a rugged, compact transit case designed to transport and store a mobile DF system comprising a DFP-1000B or DFP-1010D DF processor, a companion host receiver, a mobile DF antenna, and miscellaneous accessories. The unit contains resilient protective foam inserts with custom cut-outs.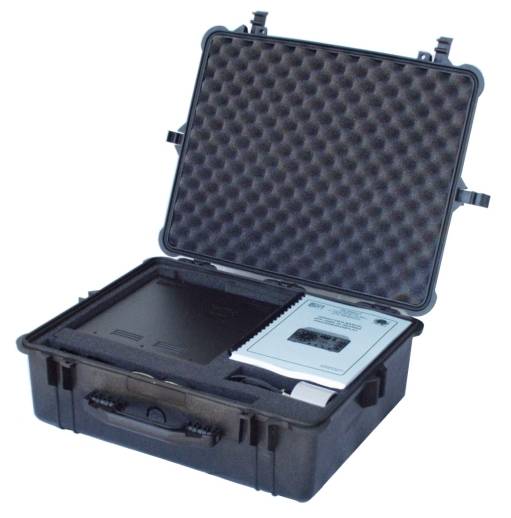 RDF Products DTC-610 Transit Case
Rugged, Compact Transit Case For DF Hardware

For DFP-1000B/DFP-1010D/DFR-1000B/DFR-2300B/DFR-8600D Mobile DF Systems

Resilient Foam Inserts For Best Shock Protection

Custom Cut-Outs For RDF Products DF Components

Accommodates Mobile DF Antenna (not illustrated)
Accommodates Various DF System Accessories

Accommodates Various DF System Accessories

Suitcase-Style Carrying Handle

Weather-Proof (both air- and water-tight)

Manually-Operated Pressure Equalization Valve
DTI-100B
The DTI-100B is a test DF Bearing Synthesizer designed to facilitate testing, calibration, and performance verification of radio direction finding receivers and bearing processors. The DTI-100B allows convenient testing in an indoor environment.
A built-in RF signal generator provides a modulated 10 MHz test signal with useful harmonic output up to 1000 MHz. This feature is particularly useful in field situations where an RF signal generator may not be available. Also, the DTI-100B can be used as a handheld test transmitter that can be walked around the DF vehicle to conduct a quick functional system test.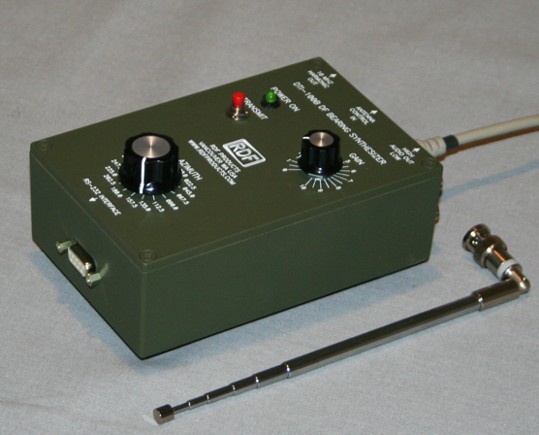 DTI-100B DF Bearing Synthesizer
Highly Accurate DF Bearing Calibration Standard

Allows Indoor System Tests Without DF Antenna

Verifies DF Receiver/Processor Bearing Accuracy

Verifies DF Receiver/Processor DF Sensitivity

Gain Control for Simplified Equipment Interface
Full 16-Azimuth Selection

High- and Low-Level Signal Outputs

Remote Azimuth Selection Via RS-232

Modulated 10 MHz Harmonic Comb Generator

Use as Walk-Around Test Transmitter for Vehicle
Discover The Power of RDF
We are a multi-disciplinary team committed to deliver the perfect radio direction finding solution for each application.